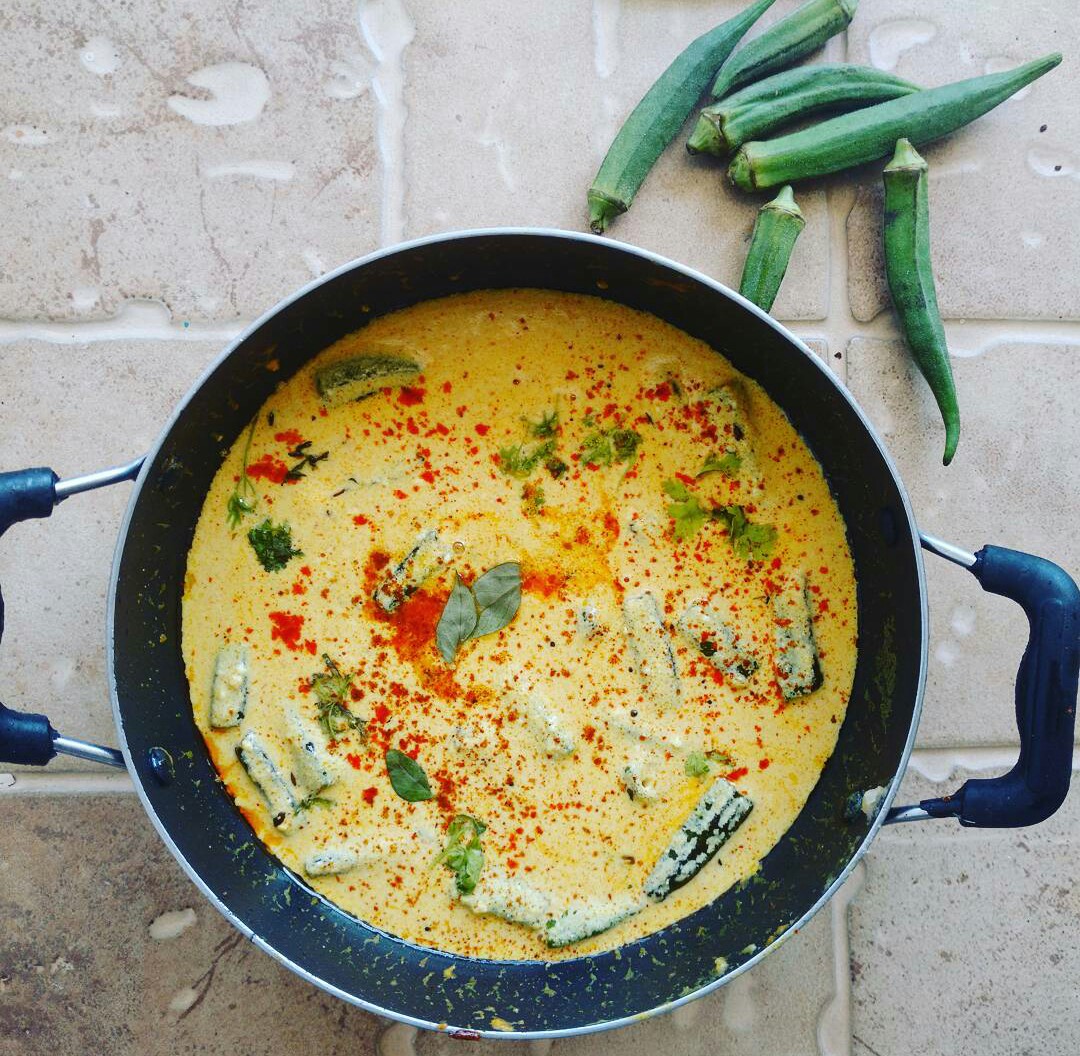 Dahi Bhindi or Punjabi kadhi is a very famous dish in India. It is basically a yoghurt based curry made with spices and gram flour . It is generally relished with some pakoras or eaten as a curry with white rice. It traditionally originated in the North and famously called as "Punjabi Kadhi " (Originated from Punjab, see the beauty of Punjab here. We will call it as 'Keto Punjabi Kadhi'
Indians here, already know what a kadhi is. If you are viewing this recipe and are not familiar with Indian cuisine , you really should cook something fun for a change. Many of you must have tried the Indian dishes of Chicken tikka and kebabs, butter chicken, etc. But trying some different sauce for your cauliflower rice is going to make you dance ! We are going to learn today how to make this curry with greek yoghurt/ Hung curd.
How to make a low-carb version of Punjabi kadhi ?
For a low-carb version, substituting high carb curd with hung curd and just adding other spices makes a tasty and delicious Kadhi . The kadhi is so tasty you won't even realize this is the low-carb version of the original recipe. You will just need curd and a muslin cloth to make hung curd from scratch. Or else you can also use plain and softened greek yoghurt for this.
Why should be the Punjabi Kadhi a big deal for us ?
Great option for vegeterian ketoers-

Every othe day, getting a message on Instagram to give them vegeterian recipes; I have tonnes of them but updating them slowly. I made this on a sunday afternoon and my non-keto peeps loved it too ! For vegeterians, this is really a best option who miss Indian dal or are tired of curries made with Paneer ! And this is a smart option to include your vegetables too.

A break from non-veg curries –

Trust me when I say even hardcore non-vegeterians like me sometimes want a break from that mutton and bacon. It is always fun to bring some variation in your cooking and enjoy this way of eating. And what more one can ask If the curry is tasty as well as low-carb ? Also, you can skip the okra if you just want a different curry to try.

People unfamiliar with Indian cuisines-

We all know that there are about 15.6 million people born in India now live elsewhere.  The biggest diaspora of Indians live in U.A.E. and U.S.A. and the Indian cuisine has reached almost all parts of the world. Being rich in spices, Indian curries bring new life to the dish. Butter chicken, Chicken tikka are some of the popular dishes overseas. If  you are excited about Indian cuisine, give this curry a try. You will be a fan of indian cuisine.
Which curd to use and why ?
Make hung curd at home . See this simple video on Youtube . Take curd and tie it in muslin cloth and let the whey drip completely from 2 hours-5 hours. More you keep it to drip, lesser the carbs. Whey present in curd adds to the higher carb count and also whey spikes insulin. Whey and insulin spikes
You can also use plain greek yoghurt ( from 3-4g net carbs/ 100 g )
Suggested use :
It is heavenly with Jeera cauliflower rice. (cauliflower rice with cumin seeds)
Great option to have with Keto Naan/ Paratha. 
Also, complete meal to make Kadhi pakoras (recipe coming soon)
Let us jump to the recipe now !!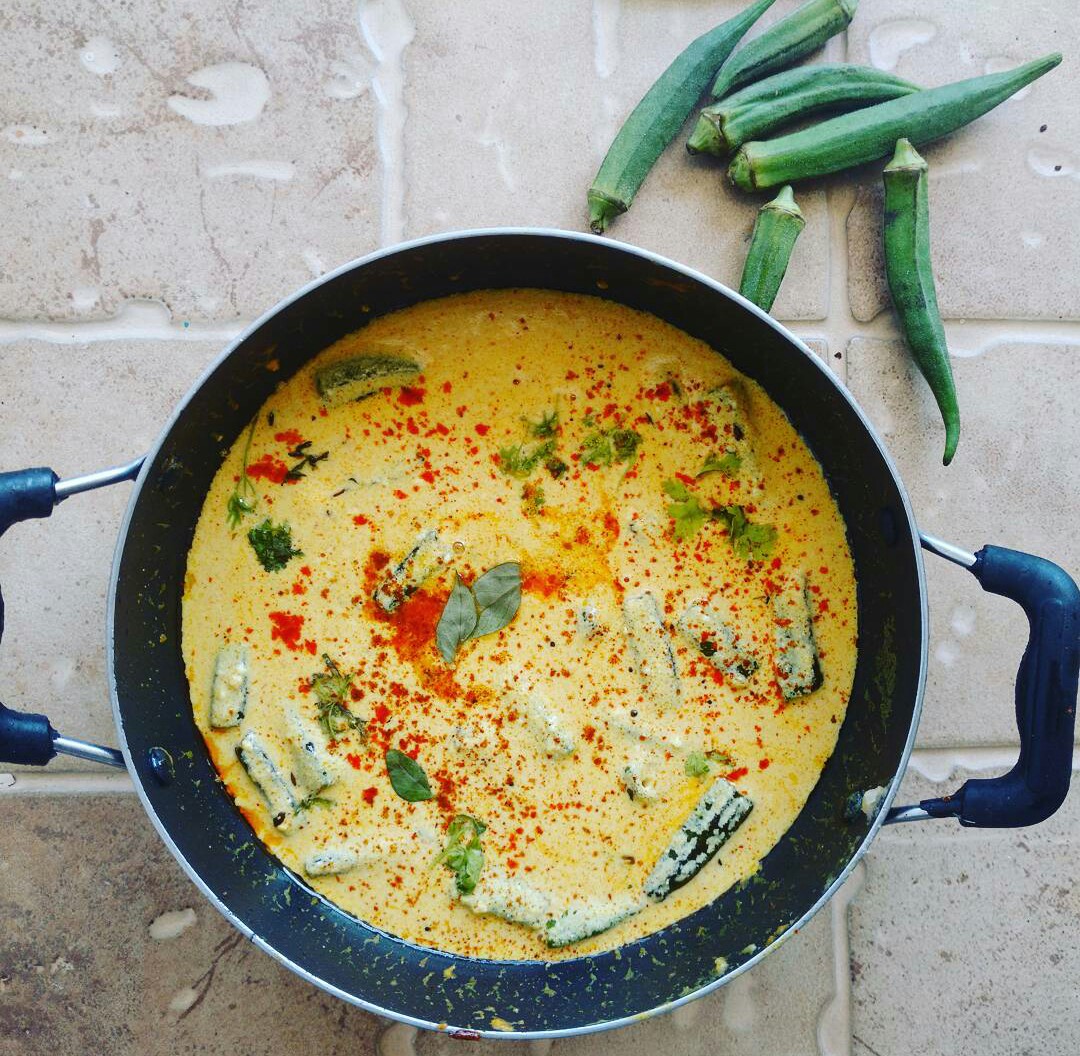 | | |
| --- | --- |
| | |
Melt 1 tbsp of ghee in the pan. Add onions, garlic and ginger and cook them for 2 minutes.

Take the cooked onions and ginger-garlic and grind them to form a smooth paste. Add 1tbsp water if it becomes difficult to grind.

Paste should be smooth without lumps

Add another tsp pg ghee and melt it . Add the mustard, cumin, asafoetida and curry leaves and let the seeds splatter

Add the onion paste along with red chilli powder, turmeric, salt and cumin powder.

Keep the paste aside, in a second pan. Add some ghee and fry the okra until it turns dark green

Take the hung curd and add to the paste in the pan, mix well.

Add about 1.5 cups of water as the curry is too thick. Original recipe demands for gram flour and water to make it thick. We are already using thick hung curd for this. So, You won't be needing any thickener for the curry. Mix well and let it simmer for 5-7 minutes. Keep the flame low always and just when the mixture begins to boil, add fried bhindi.

Add the fried bhindi/ okra and give it a mix.

Add chopped coriander and garam masala to garnish just before serving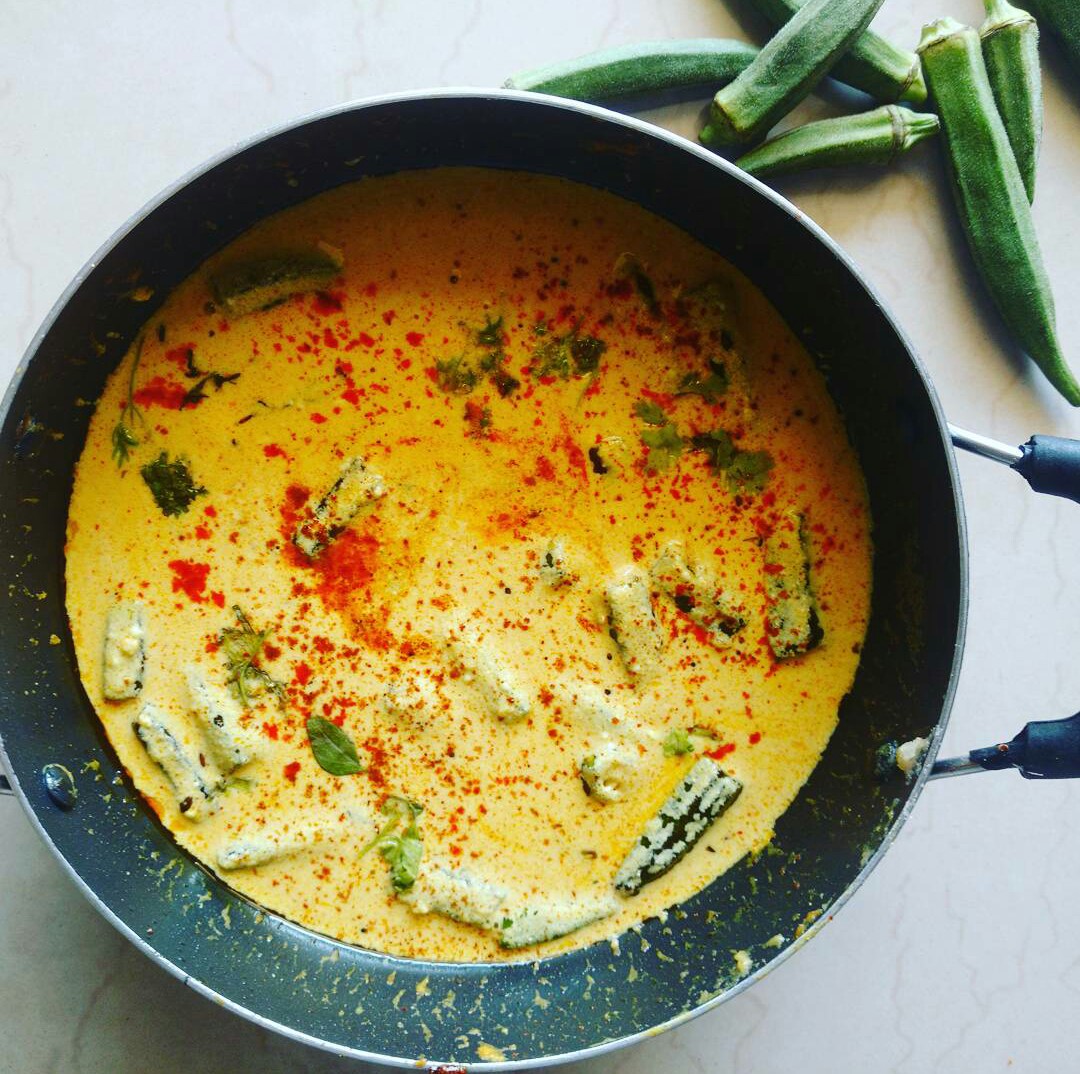 Nutrition Facts
Serving Size 60ml
Servings Per Container 3
---
Amount Per Serving
Calories 140
Calories from Fat 90.9
% Daily Value*
Total Carbohydrate 7.3g
2%
---
*Percent Daily Values are based on a 2,000 calorie diet. Your daily values may be higher or lower depending on your calorie needs.