Dairy-free Butter Chicken [Keto,Paleo,Whole30] that does not suck ! Finally I found the time to blog this most requested recipe , a request made by my American Friends !
So, a calm and relaxed morning today; me usually into a gentle slumber and aromas of a good butter chicken cooking in the kitchen finally woke me up , like for real ! I am trying to be a morning person, and clearly was failing at it from last few months. We hired a cook, finally ! Let me just log off and do a happy dance once again !
Yes, we hired the cook but only on one condition. He is going to cook everything as per my instructions. I called him for a day and I explained him everything right from the simple Bulletproof coffee recipe to my curries. I must tell you the reason why we didn't have a cook from last 10 years ?
Firstly, nobody in our home can cook like me ! Haha ! JK ! But we have our own preferences of cooking the dishes. My mother, being a Kokani, ( yeah she has coconut fetish :P) and my late father was from Kolhapur ( He used to eat very spicy food) ; so the ongoing drama of making the food too bland or too coconut-ey (yes , who can even complain about coconuts !) was there. We never liked any cook because there was at least one member complaining about the taste !
Secondly, I do feel we need to be lucky to have a maid that can cook exactly as we need ! If you ask me, I need the meals spicy and coconut-ey ! Because hello , I am a product of my father and mother and remember Mendel's Law of Segregation and Independent assortment ? Yes, I am that !
So, coming back to my morning- We got lucky I think ! Because I have found my match 😛 😛 😛 😛
He made as I had instructed the day before, made me Indian Bulletproof , this Dairy free Butter Chicken [Keto, Paleo, Whole30]  and Paleo Naans (recipe coming tomorrow) . And my God, first time in 10 years , I was able to exercise in the morning – did a HIIT routine bdw, could complete one 20 minute meditation session from headspace and could work on my procrastinated , dust-filled projects ! I think I am finally at peace, is this heaven ?
Well, I am going to make him cook these recipes too :
Mashed Cauliflower and Cheddar
Make butter chicken as per your needs : Scroll down for recipes.
Dairy-free No butter Butter chicken

Paleo friendly Butter chicken

Whole30 Butter chicken

Lazy keto'/ Low carb Butter chicken

 Strict keto butter chicken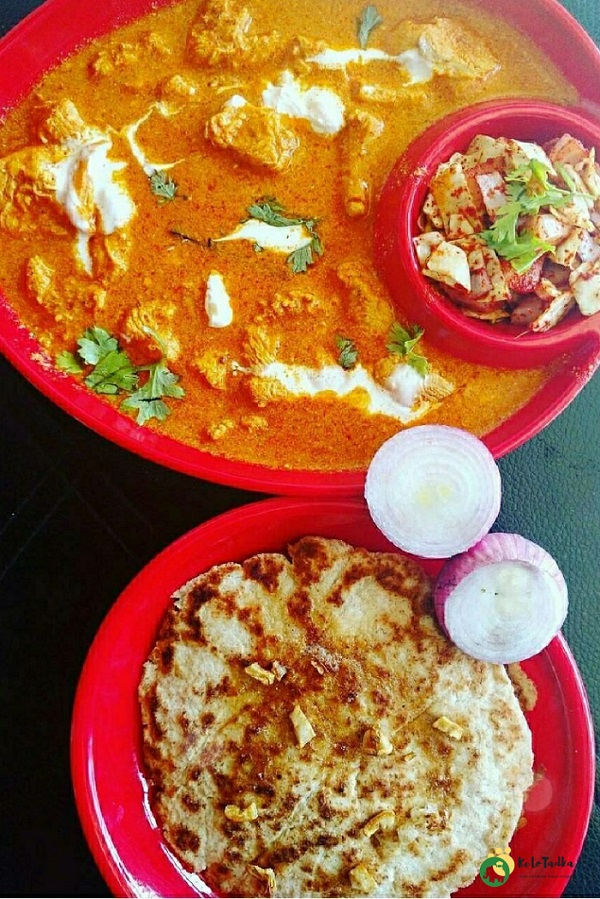 Recommended products :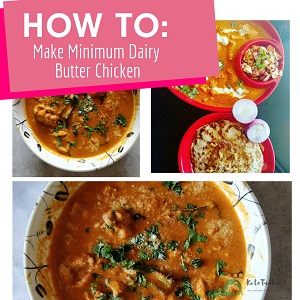 Strict Keto Butter chicken
Dairy-free , Paleo, Lowish Carb, Whole30 Butter chicken
Strict Keto Butter chicken

Dairy-free , Paleo, Lowish Carb, Whole30 Butter chicken
Melt the butter and add onions. Sautee till the onions turn translucent. Keep the flame low. If making it dairy free, paleo, whole30- use ghee instead as given in the second ingredient box.

Add the whole spices and roast them until they leave aroma.

Add the ginger garlic paste, mix well and cook for less than a minute.

Add the cubed boneless chicken thighs and cook until it turns white, will take less than 5 minutes to cook. If you are using chicken breasts, it will take at least 7-10 minutes to cook it.

Once the chicken is cooked, add the tomato puree.

Add all the spices - cumin powder, coriander powder, garam masala powder. Cover it with a lid for 5 whole minutes and let the chicken cook with tomatoes.

Open the lid and add the cream. Mix well and cover it again for 5-7 minutes. Keep the flame low at this step as the cream may curdle. If making it dairy free, paleo, whole30, lowish carb- use coconut milk instead as per the ingredients given in the second ingredient box.
dairy free, paleo, whole30, lowish carb
Follow the same instructions except, in step 3, add the cashew powder in along with ginger garlic paste and mix until it browns . Takes less than a minute

Add coconut milk (see the 2nd ingredient box) in place of cream for making it dairy-free, paleo and whole30 friendly
Ketotadka is a participant in the following affiliate programs: Amazon Services LLC Associates Program, These affiliate advertising programs are designed to provide a means for sites to earn advertising fees by advertising and linking to amazon.com
NUTRITIONAL DISCLAIMER
Please note that I am not a medical or nutritional professional. I am simply recounting and sharing my own experiences on this blog. Nothing I express here should be taken as medical advice and you should consult with your doctor before starting any diet or exercise program. I provide nutritional information for my recipes simply as a courtesy to my readers. It is calculated using Myfitnesspal app and I remove sugar alcohols (erythritol and xylitol) from the final carb count and net carb count, as it does not affect my own blood glucose levels. I do my best to be as accurate as possible but you should independently calculate nutritional information on your own before relying on them. I expressly disclaim any and all liability of any kind with respect to any act or omission wholly or in part in reliance on anything contained in this website.
© Ketotadka.com 2018. Unauthorized use and/or duplication of this material without express and written permission from this site's author and/or owner is strictly prohibited. Excerpts and links may be used, provided that full and clear credit is given to Ketotadka.com with appropriate and specific direction to the original content.