Things you can buy on amazon.in to make your Indian keto life easy ! Share this
Keto Shopping list India

with your friends !
---
Note- The items recommended by me are my favorite picks . I will be including budget-friendly and some best quality products. I am not responsible for the quality, or any damaged item you receive. Feel free to share the list with your Indian friends. It took me lot of time to curate the list with best of my knowledge, if you feel there is a better, budget-friendly product available, please feel free to comment with the amazon.in link ! The list will be updated everytime I find a good product worthy enough to share . 
Keto-friendly Flours :
Note : I know how expensive almond flour can be. If you see my blog, I hardly make any breads. I buy them in bulk only for the reason it is cheap when bought in large quantities. You can store it in air -tight containers . 
1. Almond flour
2. Coconut Flour
3. Flax seed flour
Whole flax seeds   250g pack    900g pack     3kg pack ( just grind them  fine and use it as flour)
4. Other Baking Items 
Fats, Oils , Nut butters
1] Coconut oil
2] Ghee
3] Coconut milk
4] Olive oil for light sauteeing and salad dressings
5] Nut and seed butters
Herbs and spices
1] Masalas for Everyday Indian Cooking 
2] Other herbs and seasonings :
Baking essentials
1] Baking utensils and other needs :
b. Baking tins –
Tips-  I use rock iron tawa for skillet bownies and I use the small one. Prefer buying the small one if making skillet brownies is what you desire. If you want one for making dinners, prefer buying large skillet. These need to be seasoned before use. Read the instructions before using them. 
c. Other baking accesories- 
Equipment I use
Note : I will be explaining every equipment I use for each purpose. I have used these right from making cakes to making broths, to grill chicken, to making waffles ! I know how anxious one feels while cooking for the first time. Especially when keto demands us to cook somehow daily, I feel this list will help you choose the right equipments for everyday cooking.
OTG- Oven/Toast/Grill –
I still use this one. It is not so large, but enough for making dinner for 3 people. I grill chicken, Keto burgers, make casseroles, make keto cakes, keto parathas, cheesecakes, etc in this oven. It is for even toasting the bread, broiling meat, making whole chicken roast or rotisserie chicken . I suggest you buy this if you want a really good one .
Hand mixers-
This is one of the god send equipment ! Right from beating eggs, blending, whipping cream, making cake batters fluffy, whipping egg whites for cloud breads, making doughs, I use this for everything. I used orpat one before this, orpat was cheaper but it broke within 1 year. I like how this one is really good, and doesn't heat up unlike orpat !
Slow cooker –
I got this one as a gift from my boyfriend. I use it to make Bone broths, Pulled pork, pulled chicken, even desserts. If you need to know what can you make in this, see the keto books section below. I love the fact that I can make my dinner while I sleep; yeah slow cookers help a lot. If you have a busy life, simply put the meat to slow cook it and it will be ready by the time you wake up. And not to forget it is available in India at a affordable range which I didn't expect !

Kitchen scale –
This is a great savior in the start when you absolutely don't know about macros and how much are you eating. When I started,there wasn't much information I could grasp and this is one of the kitchen scale I am still using now without any inconvenience. Go ahead and buy it to weigh your food.
Food processor –
Now, for someone who makes the cauliflower rice in bulk; this is a must in my kitchen. I use a mini processor because it is compact in size and I can use it for blending, grating, shredding  and whipping. Many of you have asked me how do I make cauliflower rice so perfectly. It is because of this equipment, I make it rice-like ! I have a mixer grinder at home which I use for making chutneys, juice,etc. so I didn't need the all-in-one processor ; I am sure we all have mixer at home. So, buying a mini food processor is enough in my opinion.
Read more- Try these delicious Indian Cauliflower rice recipes 
Weighing digital scale –
This is the bestest ! Still working after a year, no fluctuations either ! Quite sturdy in case you are anyone like me who wonders if it will break if I stand on it !! HAHA ! I used to fear this back then
Body composition analyzer- 
If you believe in measuring your true progress in terms of body fat and muscle gain, this is for you. I have been using this one from a year without any problem. This one is useful especially when you need to know the body fat accurately which is in turn useful to count macros.
Ice-cream maker
I have not used this for my keto ice-creams, but I have used one of my friends' to make keto ice-cream together ! It is definitely worth buying if you want to spend some bucks to have a comfort bowl whenever you want . And guess what ? All the ice-cream recipes work and doesn't make the ice-cream icey !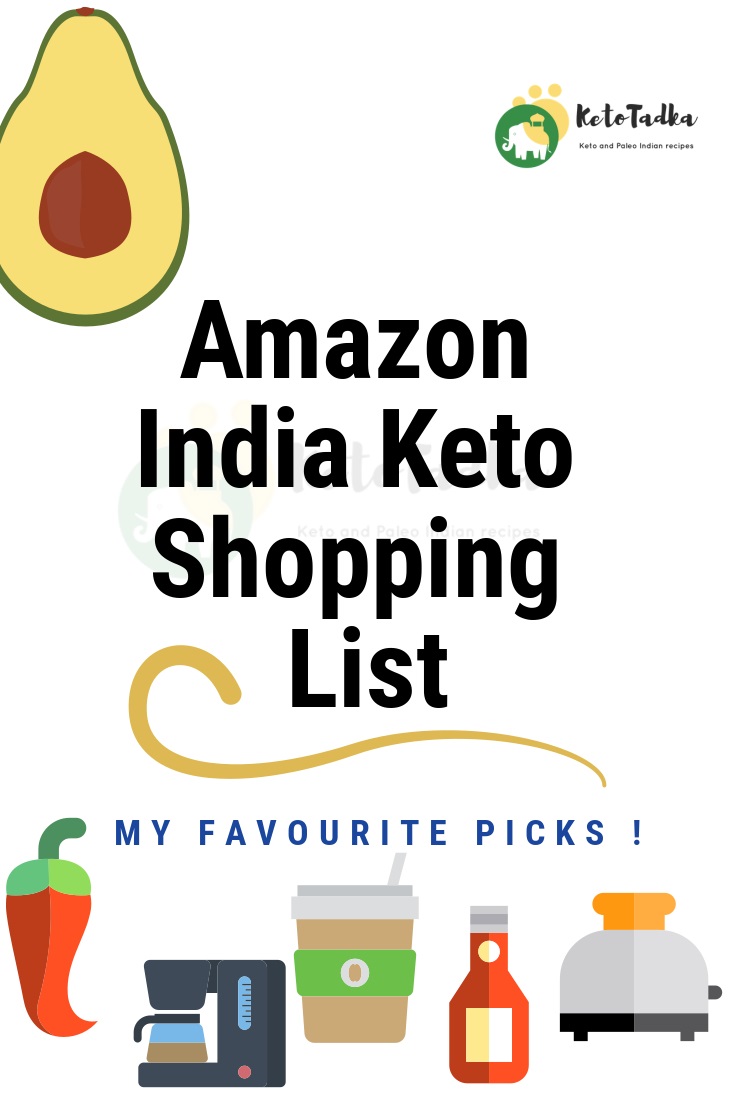 ---
Meal prep thingies and storage containers
Meal prep containers-
There are many meal prep container sets online on amazon but they are available from the global store and are heavily priced as the shipping rates are high. But they are compartmentalized, and are meal-prep exclusively. Personally, I found them too pricey, if you still want to buy them- CLICK HERE 
The ones I use are of 900 ml and come in a pack of 4, I use them to prep for 4 days . But let me be honest, I wish if they were with compartments. Anyways, this is my best find till now. Nevertheless, the best option would be getting this lunch box if you want to take this to work.
Freezer-safe bags for freezing marinated meat or cauliflower rice 
This one is a savior to organize your kitchen ! I am soon writing a post about kitchen hacks and these are of prime importance when I need to organize my referigerator. I store grated cauliflower rice for months in this bag !
Keto-friendly/Low-carbish sauces and dips
Note- In my honest opinion, there aren't many options when it comes to sauces readily available in India, as mostly all of them are ladden with sugar. I am trying my best to pick the ones that are ketoish ; make sure you use very small quantities each time you use them to prevent being kicked out of ketosis. Also, look out for sauces made in refined oils, do not buy them. Only oil used should be olive oil. Best way is to prepare them at home, but not everybody has that much time or resources , so the list to follow. 
Sriracha sauce
Probably, you have this one already.  This was the first ever sauce I bough when I started. This one is great for chicken wings or just putting it on your zoodles !
Basil pesto
This one has 11g carbs and 9g sugar per 100g and this is the only one which I found has comparatively lower carbs than available online. Now, if you use 1 tbsp-2tbsp at a time, the sauce should contribute 1-2g net carbs at a time. Do not use it in excess quantities
Tomato pesto
This one has one of the ingredients as cashews , but should be low-carbish.
Peri Peri Sauce
This is my favorite, ideal for making peri-peri chicken or peri peri jicama fries. It is available from hot to mild range. This has little sugar in it but per serving it comes down to very less carbs. Although, the sauce is gluten-free and preservative-free but is made in sunflower oil ! I know, just when you have found the right one. Nonetheless, use it in moderation
Olive oil Mayonnaise 
Now, this is hardly anywhere available. I mean the no sugar, no refined oil mayonnaise- But if found this with pretty low carbs but it had rapeseed  oil . Yikes, but works in moderation ? Let's say yes because we have nothing great available in the market. There is olive oil mayonnaise on amazon, which is fat-free and with sugar , so nothing worth buying there. I would buy the one below and use it in moderation.
Keto- friendly sweeteners
1] Stevia –
Any stevia you have, it is going to be bitter. But it is one of the preferred sweetners in low carb community owing to less insulin spikes. I use it in my coffee every time. Better than erythritol and xylitol.
2] Erythritol –
This is the best sweetener after stevia, because it doesn't have any aftertaste . Though, it gives little cold taste when used for baking. I use to sweeten my smoothies sometimes.
3] Xylitol-
Tastes exactly like sugar, but spikes  more insulin than stevia and erythritol , but I love it because it is required in less quantities than erythritol to make something sweet; so the packet will last long !
BEST KETO BOOKS TO BUY !
---
The list will be updated every time I find a better product to share. Meanwhile, have you got a wonderful find worthy enough to share in this list ? Let me know in the comments because we need to share the word and help those are in need. Feel free to ask me about any specific products you need . Also, I am making a list soon of bigbasket and hope that helps you too !  What kind of blog posts would you like to see ? Restaurant finds ? Kitchen hacks ? Comment below.
You can contact me here, see my socials below 
Ketotadka is a participant in the following affiliate programs: Amazon Services LLC Associates Program, These affiliate advertising programs are designed to provide a means for sites to earn advertising fees by advertising and linking to amazon.com
NUTRITIONAL DISCLAIMER
Please note that I am not a medical or nutritional professional. I am simply recounting and sharing my own experiences on this blog. Nothing I express here should be taken as medical advice and you should consult with your doctor before starting any diet or exercise program. I provide nutritional information for my recipes simply as a courtesy to my readers. It is calculated using Myfitnesspal app and I remove sugar alcohols (erythritol and xylitol) from the final carb count and net carb count, as it does not affect my own blood glucose levels. I do my best to be as accurate as possible but you should independently calculate nutritional information on your own before relying on them. I expressly disclaim any and all liability of any kind with respect to any act or omission wholly or in part in reliance on anything contained in this website.
© Ketotadka.com 2018. Unauthorized use and/or duplication of this material without express and written permission from this site's author and/or owner is strictly prohibited. Excerpts and links may be used, provided that full and clear credit is given to Ketotadka.com with appropriate and specific direction to the original content.