Holi is almost here, and so are our holi special recipes. Low carb Thandai is all you need this Holi ! Say bye-bye to sugar and insulin spikes !
Thandai is an Indian cold drink prepared with a mixture of almonds, fennel seeds, poppy seeds, melon seeds ,cardamom, milk and sugar. It is native to India and is often a beverage enjoyed on Mahashivratri and Holi . This is a plain definition from Wikipedia 😛 For me, it is a Indian drink which gives you the high.

This is not a bhaang-infused thandai but a bhaang-free thandai. Traditional recipe calls for melon seeds but I was very confused with the nutritional value of it and I skipped it. It is still the same flavour , taste and texture. You will love it.
I planned to make many Mahashivratri and Holi special recipes, and they are done too but I was stuck in life and couldn't blog them a day before Mahashivratri . Anyways, there is not a better time than today to make this low carb thandai. Also, some fellow ketoers pointed out that Mahashivratri would be celebrated in Madhya pradesh a day later. So, this is a win ! MP waalo, enjoy 🙂
See this Mahashvratri special low carb recipe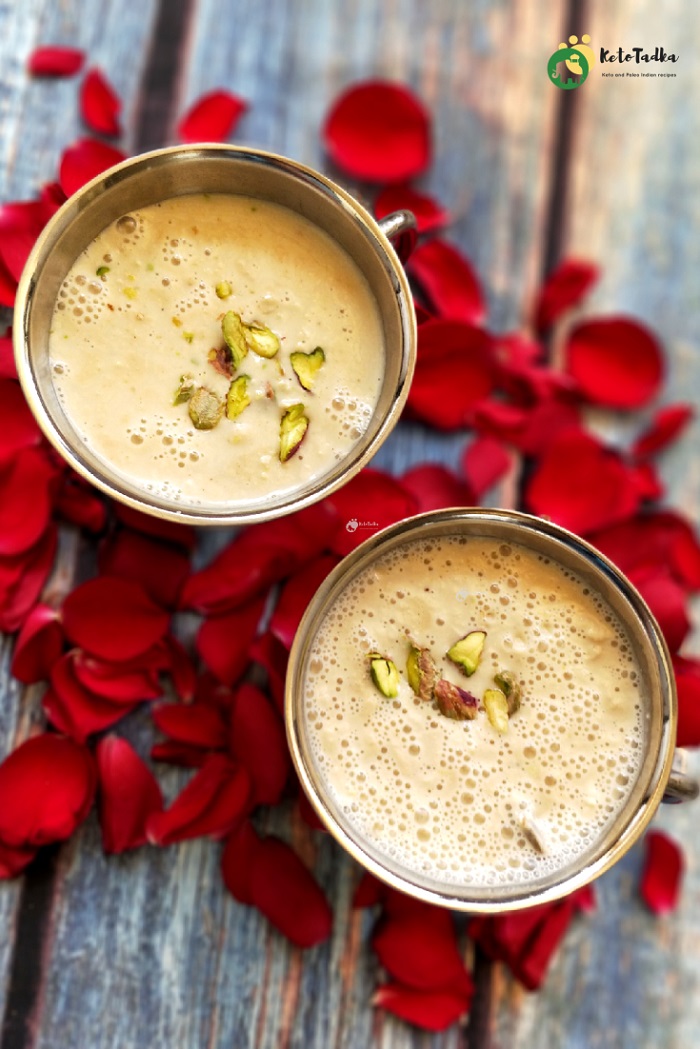 I deliberately did not call this recipe Keto Thandai even if it is just 4g net carbs per glass. It is because I am using different types of nuts and not all of them are keto compliant. But if you are someone who goes by 'If it fits your macros' approach , this is totally a "You do you" recipe !
Read more –Keto Indian Shopping list 
Some notes about the low carb thandai-
Traditional recipe uses melon seeds, and I haven't found valid nutritional data to use it. I am assuming they are high in carb. Nevertheless, the thandai tastes better without it.
I have used a mix of soaked nuts, but if you want to reduce the carbs further, you can skip the cashews. If you are having this on the festival, I say make it as a YOLO recipe and add the cashews too.
I have used fresh rose petals in the recipe. Use dried if you have them. If you do not have either, use rose water or essence which is of good quality. Use only 1 tsp as it tends to overpower other spices.
The thandai is good only when it is served cold as the nut paste we added makes it thicker and you get this rich creamy consistency. Sadly, we could not wait until the thandai was cold and we shot the last scene when it was still warm. I suggest you do not skip the 2 hours 🙂
See the youtube recipe here –
Check out these low carb Indian festival special recipes too –
Nutrition Facts
Serving Size 1 serving
Servings Per Container 5
---
Amount Per Serving
Calories 286
Calories from Fat 232.2
% Daily Value*
Total Carbohydrate 9.3g
3%
---
*Percent Daily Values are based on a 2,000 calorie diet. Your daily values may be higher or lower depending on your calorie needs.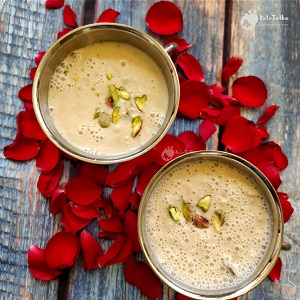 | | |
| --- | --- |
| | |
In a grinder, put all the nuts and seeds, grind into a paste as shown in the video. Add about a tsp of almond milk while grinding it. Keep it aside

In a grinder, make the spice mix by adding all the ingredients of the spice mix. Keep it aside. [I am not a fan of cinnamon, so I used only 1/2 inch stick. Cinnamon overpowers the cardamom flavor, which I don't like. If you are a cinnamon lover, take 1 inch cinnamom] Do not skip the rose petals. If you do not have dry petals, use fresh ones.

In a saucepan, start boiling the almond milk. Keep stirring in between so that it doesn't stick to the pan.

When it starts to lightly boil, add the nut paste. Break the lumps. Boil with the nut paste for over 7-8 minutes. It doesn't reduce to half but some of the almond milk is evaporated.

Add the spice mix, not all of it !!! Only 3 pinches of it. Boil for 2-3 minutes while mixing it.

Add the sweetener and mix well. Add the cream, boil for another 4 minutes on a low flame.

Switch off the flame and let it cool completely in the fridge for 2 hours. It thickens as it cools, and tastes good only when served cold. [we sadly couldn't shoot the thandai when it was cold as were pressed for time]
All the products I use in the recipe are in the shopping list. See the description of the blog post.
Ketotadka is a participant in the following affiliate programs: Amazon Services LLC Associates Program, These affiliate advertising programs are designed to provide a means for sites to earn advertising fees by advertising and linking to amazon.com
NUTRITIONAL DISCLAIMER
Please note that I am not a medical or nutritional professional. I am simply recounting and sharing my own experiences on this blog. Nothing I express here should be taken as medical advice and you should consult with your doctor before starting any diet or exercise program. I provide nutritional information for my recipes simply as a courtesy to my readers. It is calculated using Myfitnesspal app and I remove sugar alcohols (erythritol and xylitol) from the final carb count and net carb count, as it does not affect my own blood glucose levels. I do my best to be as accurate as possible but you should independently calculate nutritional information on your own before relying on them. I expressly disclaim any and all liability of any kind with respect to any act or omission wholly or in part in reliance on anything contained in this website.
© Ketotadka.com 2018. Unauthorized use and/or duplication of this material without express and written permission from this site's author and/or owner is strictly prohibited. Excerpts and links may be used, provided that full and clear credit is given to Ketotadka.com with appropriate and specific direction to the original content.