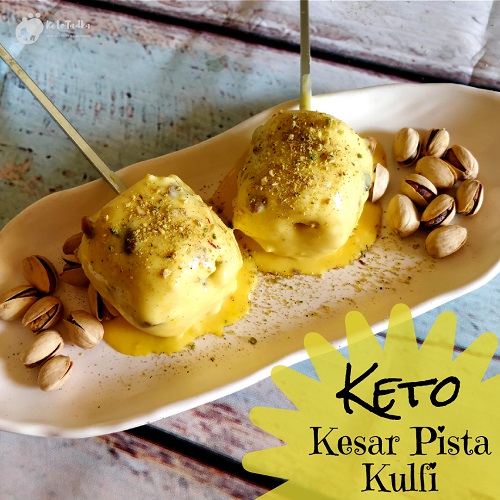 Who doesn't want a kulfi in their life ? This is the most amazing recipe you need in your life. The Keto Kesar Pista kulfi ( Keto dessert recipes indian keto kulfi ) is so damn easy to make and has an exact texture to that of the original Kulfi.
What is Kulfi ?
Kulfi is an Indian frozen dessert and is known as Traditional Indian Ice-cream. It is made by boiling and reducing the milk , making it very thick ; adding the cardamom and sugar and freezing it till solid. We are making the Keto kesar pista Kulfi (Keto dessert recipes Indian)  which tastes exactly the same and you are going to thank me for this one.
Making of the Keto Kesar Pista kulfi : (Keto dessert recipes Indian Keto kulfi)
When I was in Goa last year, I realized foreigners are already familiar with the Kulfi. It was to my surprise because I never knew our desserts are enjoyed so much there. Even when I posted Keto Rabdi recipe, many of the fellow ketoers from the United States asked me to make a kulfi recipe. I already made 4 recipes with the Keto condensed milk recipe and this was the first one.  So, if you are very familiar with Kulfi, you gotta make it soon as it is only 2.3g net carbs !
Must before planning to make the Keto kesar pista Kulfi (Keto dessert recipes Indian Keto kulfi) :
You need to make the Keto condensed milk before making the kulfi. If it was made last night and you are making the kulfi today, make sure to microwave for 25 seconds before using it in the recipe.
Comments on the texture of the Keto Kesar pista kulfi :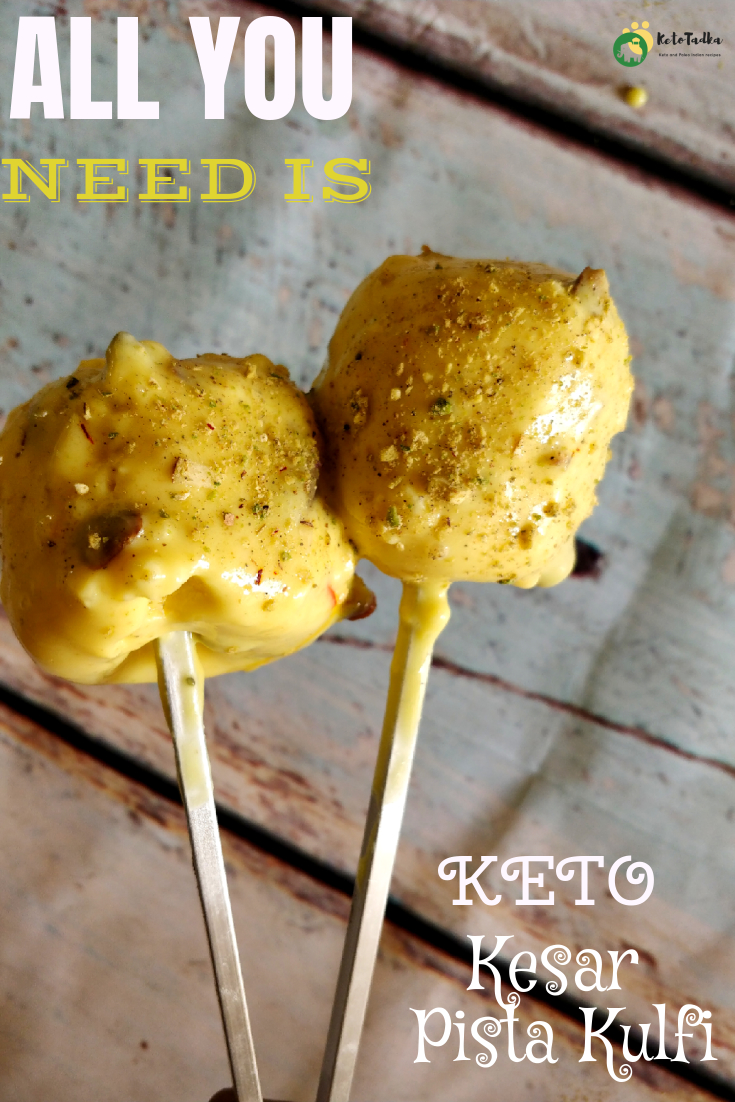 See the picture above. The texture is quite creamy and rich.  Kulfi gets completely frozen by the end of 4 hours and when rolled between the palms, comes out of the cup with ease. ( See the youtube recipe )
Within few minutes, it starts to melt. So if you are planning to make it today, make sure to eat one serving in one go. Also, the cups I used in the recipe are large as there were no small cups available. You can make it in half the size of the cup shown in the video. The one I used was 9 oz (approx. 250 ml) in capacity and I poured only half of the the kulfi mix in one glass. These made 2 servings of kulfi with 125ml kulfi in each serving.
Now, let us get to the recipe. Here is the video recipe :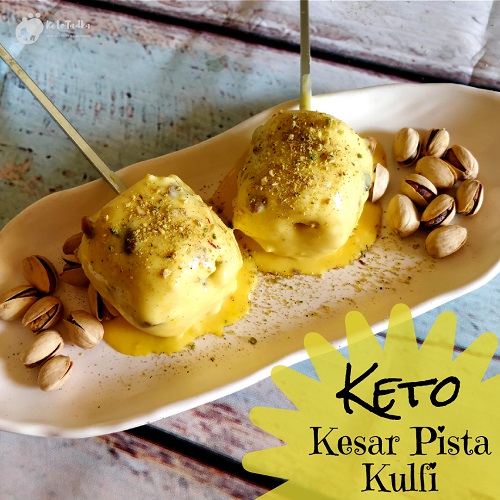 | | |
| --- | --- |
| | |
Add the almond milk, keto condensed milk and sweetener in a pan. Keep the flame medium high. Let it come to a boil, takes 7-8 minutes.

Add the saffron, pistachios (or nuts of choice) and cardamom and let it boil for 7-10 minutes.

Switch of the flame and let the kulfi mix cool down completely. It thickens.

Pour the kulfi mix in 4 small disposable cups or 2 big ones and wrap it with plastic. Freeze for 4 hours.

Remove the wrapped plastic, pierce the kulfi with a wooden stick or skewers (if you don't have wooden kulfi stick) and roll between your palms .

Give the bottom of the glass a gentle push and lift the kulfi out. Garnish it with some more nuts if you like. Enjoy !
NUTRITIONAL DISCLAIMER
Please note that I am not a medical or nutritional professional. I am simply recounting and sharing my own experiences on this blog. Nothing I express here should be taken as medical advice and you should consult with your doctor before starting any diet or exercise program. I provide nutritional information for my recipes simply as a courtesy to my readers. It is calculated using Myfitnesspal app and I remove erythritol from the final carb count and net carb count, as it does not affect my own blood glucose levels. I do my best to be as accurate as possible but you should independently calculate nutritional information on your own before relying on them. I expressly disclaim any and all liability of any kind with respect to any act or omission wholly or in part in reliance on anything contained in this website.
AMAZON ASSOCIATES
Ketotadka is a participant in the Amazon Services LLC Associates Program, an affiliate advertising program designed to provide a means for sites to earn advertising fees by advertising and linking to amazon.com.
Nutrition Facts
Serving Size 1 kulfi
Servings Per Container 4 kufis
---
Amount Per Serving
Calories 292
Calories from Fat 278.1
% Daily Value*
Total Carbohydrate 2.8g
1%
---
*Percent Daily Values are based on a 2,000 calorie diet. Your daily values may be higher or lower depending on your calorie needs.