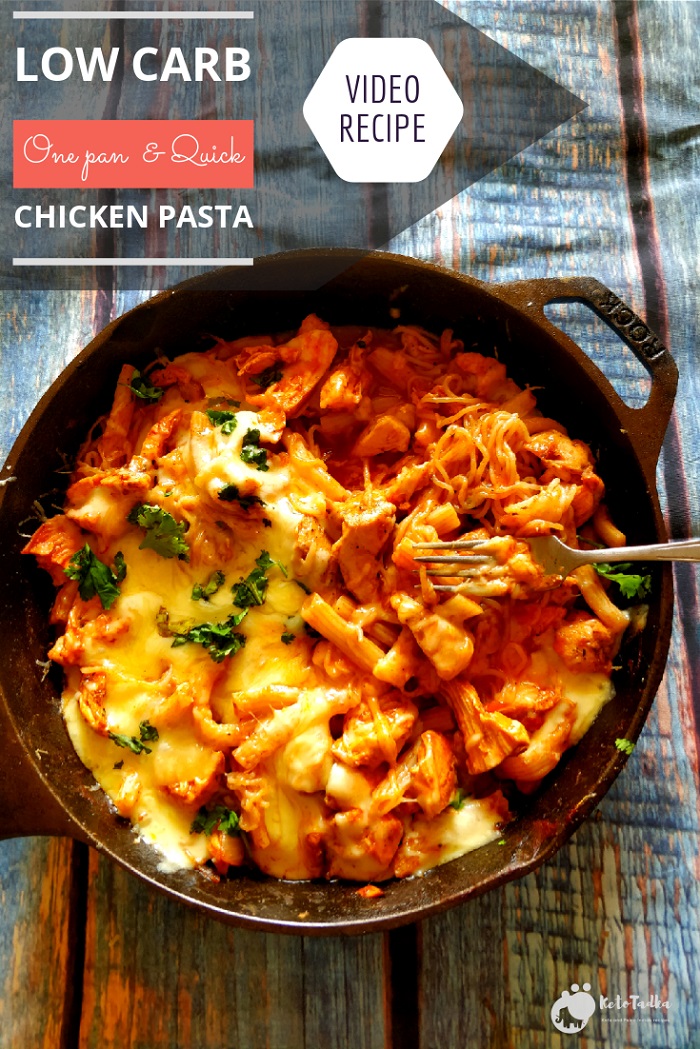 Low Carb Chicken Pasta is what you need for this festive season. It's warm, easy to make and guess what- it is ready in few minutes in a single pan.
What will you need to make Low Carb Chicken Pasta / low Carb Pasta –
1] Shirataki Noodles or Slim Pasta Noodles 
I use this – 
Penne or Sphagetti (People in India) ( See recipe notes section below)
Shirataki Noodles/ Zero Carb noodles (People outside India)
The Shirataki noodles are very low and almost zero in carbs but they are not available in India.  Indian Low-carb Alternative for pasta is the SLIM PASTA NOODLES/PENNE available on Bigbasket. They are not strictly keto but are good low-carb options if eaten in 2 portions. Remember to wash the noodles with some gentle flow of water to take away the smell of konjac.
2] Tomato Puree
I use this – Dabur Homemade Tomato puree
You can use the puree I used or make puree at home with 2 medium tomatoes.
3]Italian Seasoning
I use this – IItalian Seasoning 
4] Onion 
5] Parmesan cheese
6] Mozzarella cheese
7] Grilled / broiled shredded chicken
You can use either grilled / rotisserie or boiled shredded chicken. Chicken I used in the recipe was grilled but was a bit larger in size than I wanted. Make sure to use small sized shredded pieces.
8] Iron skillet –
I use this – 6 inch skillet or 10 inch skillet  (People In India)
Iron skillet is Best investment ever !!! You can use it to make almost anything – Be it pies, desserts, cakes, eggs, fry , sautee – You name it ! And it works on the stove, microwave as well as the oven.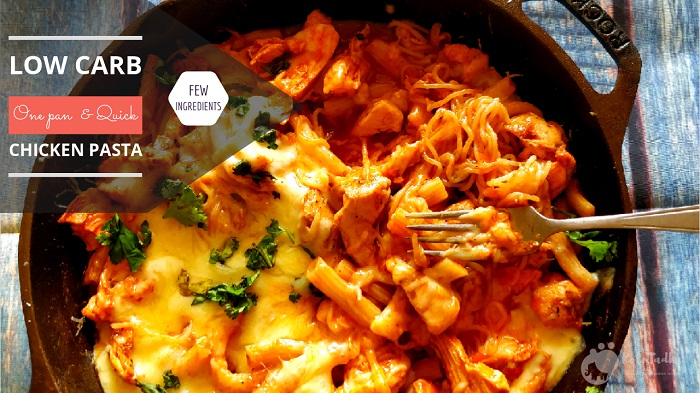 Let's get to the recipe !
Youtube Recipe is here –
Grill or broil the chicken and shred it . Keep it aside. Season it with some pepper if you like.

Melt the butter in pan and sautee onions and garlic. Add the tomato puree and let it cook and thicken for 7-8 minutes

Add the Italian seasoning .

Add the pasta and chicken, Mix well.

Add the broth and mix well, Let it cook for 7 minutes till the water evaporates.

Grate some parmesan and mozzarella cheese on top. Bake in the oven till cheese melts ad browns or cover it with a lid if you do not have an oven