If you are an Indian and are eating high fat and low carbohydrate diet, the post title itself will make you drool ! These are only things an Indian will understand , I mean the drooling over God damn Parathas !! And now I teach you how to make the keto parathas (keto roti) !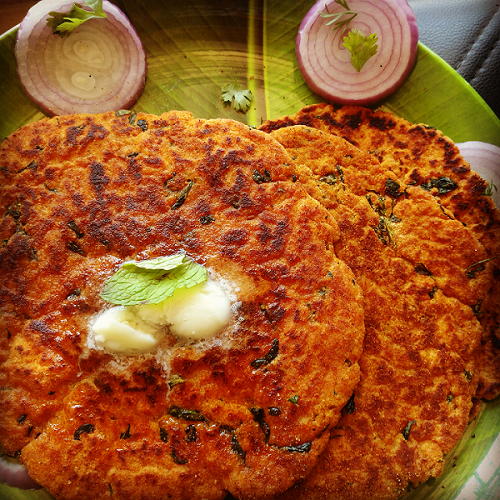 This recipe of Parathas is not only popular among Indian ketoers, but also people who followed by old blog previously. The level of appreciation I received for the parathas was really so good, that I am sure anybody trying this will surely be happy with the outcome.
What is a Paratha?
Parathas are nothing but an Indian common name given to the flat-breads made of wheat or rice flour.
Parathas are actually a staple food of North Indian people but are relished by Indians overall. The variety one can make using parathas as the base are infinite. Common ones include flat-breads with methi leaves (Methi-Fenugreek ), Spinach leaves, mashed potatoes, radishes, paneer (cottage cheese), etc. It is basically a huge meal in itself usually served with some curry.
How to keto-fy your rotis/naans/parathas?
The ketogenic or low carbohydrate version of the paratha(or keto roti or keto naan)  is simply so much alike to the original paratha, you will forget the wheat flour ones ! We will substitute wheat flour with some low crab and keto-friendly flours like Fine Almond Flour
, Coconut Flour [Gluten-free, Fiber-rich, Paleo friendly]
and will create a paratha even tasty than the original ones. The process of mixing the flour with water and kneading it into a soft dough remains the same. Only difference is to keep the dough aside for 1 hour.
And other thing to add is the amount of net carbs– it is just 4g net carbs per paratha.
Recommendations :
ALMOND FLOUR AND COCONUT FLOUR- 
Suggested use of Keto roti / Keto Paratha ?
The way in which you will consume these flat-breads is according to your own preference.
If you are a fan of Indian Curries, make these as a roti without any greens.
If you want to try it for a breakfast meal, you can simply make a raita with greek yoghurt.
You can also make them without any spices and greens and have it as a sweet dish i.e. with ghee and some low carbohydrate, Low GI, Low Insulin response sugar substitute.
Let us jump to the recipe and then I will explain you how to use these in your daily meals.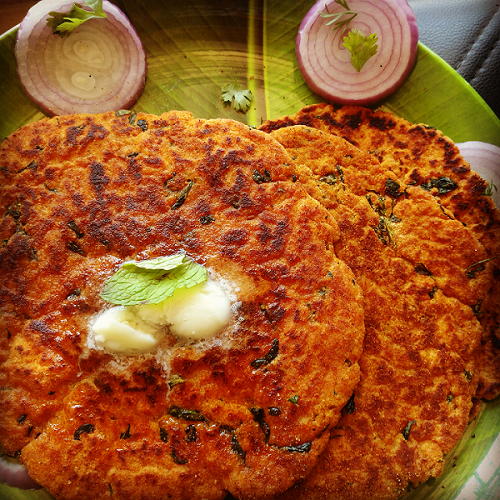 | | |
| --- | --- |
| | |
Combine the almond flour, coconut flour, psyllium husk and the methi leaves along with all other ingredients.

Mix it well some 3-4tbsp of water to make the dough soft. Keep the dough covered for about 45 minutes.

Roll into a ball using a rolling pin or a tortilla maker, flatten into a paratha.

Take an iron skillet, heat the oil in it and fry the paratha in some ghee.
How to use them ?
Have it with some Indian pork or chicken curry e.g. Butter chicken or just like that with some low carbohydrate sauce or some greek yoghurt raita.
Use them as tortillas or wraps with some chicken/pork/mutton filling.
Use them as a breakfast option .
Make a basic keto roti without spices and greens, and have it with ghee and some erythritol.
TIP- You can skip the fenugreek leaves and other spices, and make a simple keto roti with almond flour, coconut flour and psyllium husk.
Nutrition Facts
Serving Size 1 paratha
Servings Per Container 4parathas
---
Amount Per Serving
Calories 159
Calories from Fat 90.9
% Daily Value*
Total Carbohydrate 13.7g
5%
---
*Percent Daily Values are based on a 2,000 calorie diet. Your daily values may be higher or lower depending on your calorie needs.