Does anything gets better than Chia ? Chia soaked in water or non-dairy milk, swells in 24 hours and adding some sweetener to it -KaBoom ! There you have a pudding . But, have you thought of making it incredibly tasty with some unique combination of flavors ? I mean there are hundreds of recipes with berries, mint and chocolate- but frankly they get boring after a while. I thought of fusing some Indian flavors and they came out so amazing. You all should really try these keto chia seed pudding with some Indian twist.
First things first, people not familiar with the words Blueberry
'doi'

and

'Chai biskoot' 

in the title –

Doi is a Bengali word for Curd– often used as 'Mishti Doi' – meaning Sweet yogurt. The Keto Chia pudding made this way will be tangy, sweet and fun ! Make this as a "pick-me-up" !

Chai Biskoot – In a very literal sense, Chai Biskoot just means 'chai biskoot' – a biscuit one has with tea. But then, Chai Biskoot isn't only about chai and biskoot. At a subliminal level, 'chai biskoot' is about small human interactions. Like in college, where the college canteen is invariably the focal point of existence, the tea or the lime juice is not the real reason why students hangout at the canteen. The canteen (and its tea or lime juice) is more a catalyst or a facilitator of student interaction. Similarly, for the average man on the street, the chai biskoot routine is an interface. In that sense, Chai Biskoot isn't as much a biscuit as it is a metaphor. People craving Chai Biskoot should really try this asap ! The flavour is somewhat like Parle-G biscuits (famous biscuits/ cookies in India) Here we call packed cookies as 'biscuits' 😛  So, this flavour will be a Desi Cookies and Cream :p 
Inspiration behind the Keto Chia seed Pudding with Indian twists-
This recipe is solely dedicated to my college days- when I did my Masters. Chai Biskoot is the only thing we could afford as a quick way to satisfy our hunger. I remember buying a Parle-G packet (Yeah G maane Genious packet 😛 ) and adding to Chai and making a pudding out of it. I still remember making this for my roommates and they used to love it. I am sure this is a recipe to keep !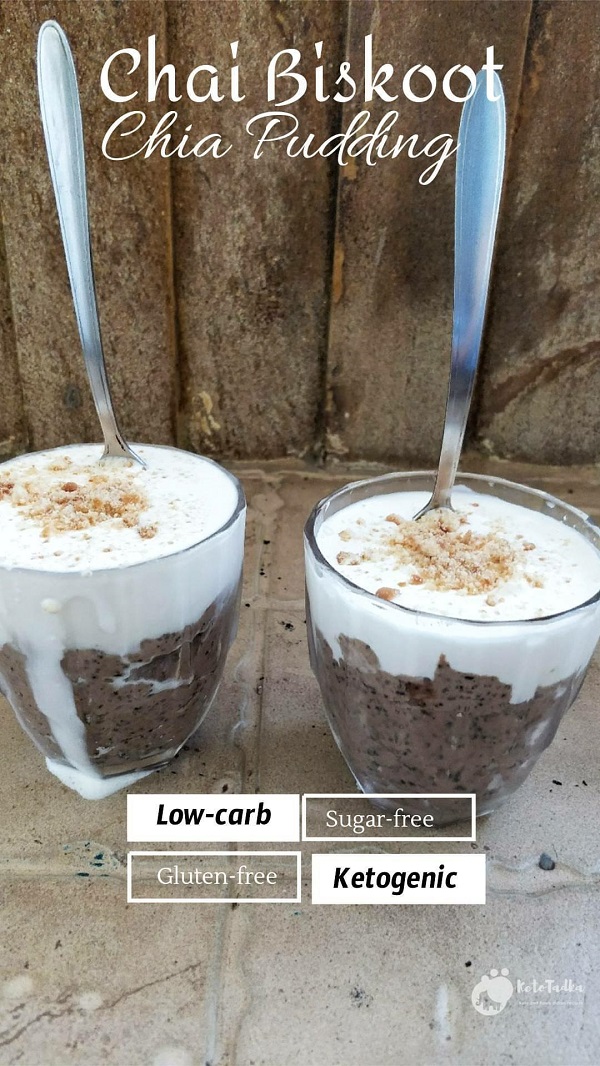 About Blueberry Doi, inspiration was from my mommy – she used to whip up some real good smoothies. And nothing like fro-yos we get in the market.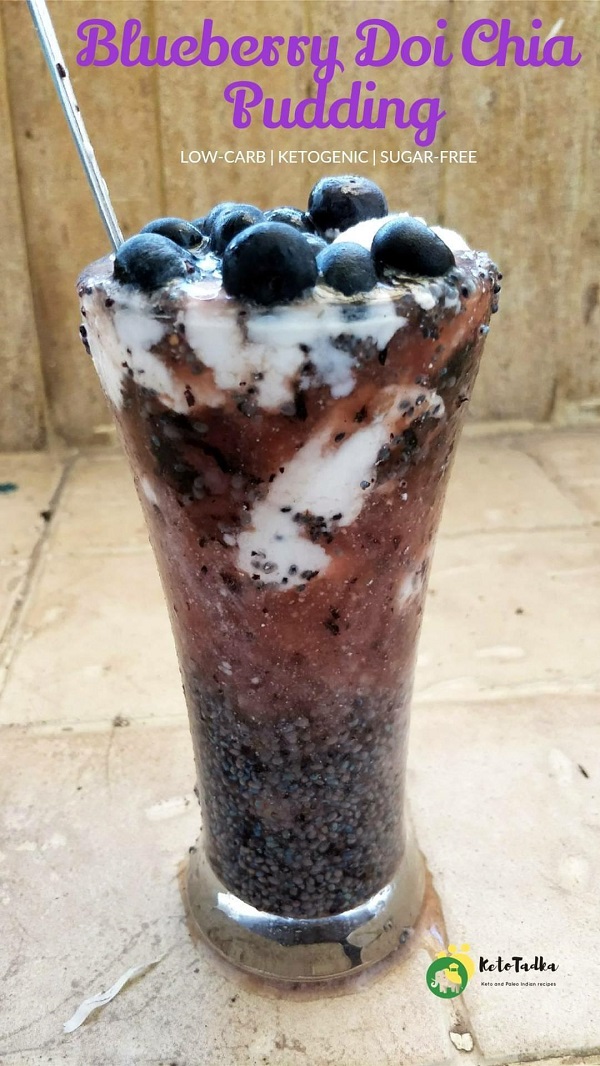 FYI, you will need a list of things for making these two . That is the only way you can enjoy your Chia puddings- by putting in some effort 😛 Lets get to the recipe.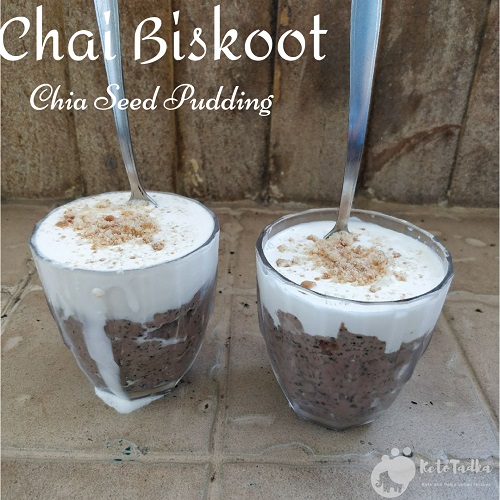 Blueberry Doi Chia pudding
| | |
| --- | --- |
| Blueberry Doi Chia pudding | |
Blueberry doi Chia pudding
Firstly, buy real good blueberries. High quality blueberries should be plump and fresh looking. I buy from Godrej Nature's Basket and really love all the fresh produce there. FYI - Berries of low quality are soft and watery or have a shriveled appearance. Color; which may be blue, black, bluish-black or purple is the key to ripeness. Look for berries that have a uniform color. Blueberries usually have a grayish waxy deposit on the skin, which is called bloom. The amount of bloom present depends on the variety of the berry. The bloom on the berry is a protective coating; therefore, blueberries should not be washed until just before they are going to be used. Blueberries will spoil quickly if left at room temperature. They can, however, be stored for several days in the refrigerator.

In a blender, add the lemon juice, salt and 8-10 blueberries along with maple syrup/ sweetener and water. Grind it till there are no more lumps of blueberries left.

Add chia seeds , roasted almond flakes and sunflower seeds to the serving jar and pour the blueberry mixture to it and mix well. Keep in the fridge overnight or 8-10 hours maximum till all the seeds swell.

Mix the mixture, pour it into a serving glass, top it with greek yogurt. Add some more blueberries, coconut flakes and sunflower seeds and enjoy !!!
Chai biskoot chia pudding
First, let us make the basic pudding. Take the almond milk in a container, add chia , 1 tbsp vanilla and 4 tbsp xylitol - give it a mix and keep it overnight in the fridge.

Second step is to make the biskoot. Heat a pan and add the butter. Then add the almond flour and sweetener. (If using erythritol, use it powdered and not the crystals) Roast the almond flour in the butter till it is brown enough. Remove it in a plate, add 2 drops of vanilla and mix. Press it as you would do for a cheesecake base. We just made a vegeterian skillet cookie with a shortcut 😛 Now keep the plated cookie in the fridge for 3 hours or keep it along with the pudding overnight. (If you want to skip the biskoot step, add 2-3 tbsp of leftover keto cheesecake instead)

Next day, brew some tea and keep it aside. Mix it with the chia pudding .

Take a blender, add the plated cookie (leaving only 1 tbsp of it aside to serve as topping) cream cheese, cocoa and the pudding and blend well. Mixture tends to become a huge lump. You may keep as it is lumpy or add some almond milk to make it less lumpy.

Take 2 glasses, remove the pudding in these.

Take fresh cream in a bowl, add sweetner and vanilla and mix well. ( If using heavy cream more than 30% fat, whip it until it forms soft peaks) . Top the pudding with cream and leftover biskoot.

Keep it in the fridge for 2 hours and enjoy !
Recommendations

:

CHIA SEEDS– I use this.

ALMOND MILK– I use this.

XYLITOL– I use this.

ERYTHRITOL – I use this 

TEA/CHAI – I use this 

SUNFLOWER SEEDS – I use this
(This post may be sponsored or contain affiliate links, but all opinions are my own. I may earn money if purchases are made through links (at no additional cost to you) which helps support this site and keep the content free.)