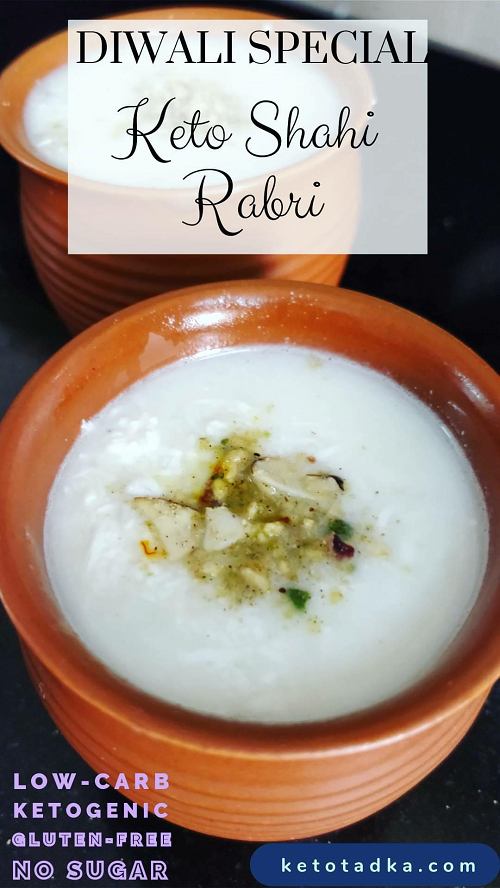 I have been waiting to get time and upload all of my recipes soon. Today, I bring you Diwali Special Keto Rabri, a.k.a Keto Shahi Kheer.
Diwali is here, and so is the anxiety ! I am very anxious in festivals only because I feel it is too much pressure to see all the sweets and savouries that are high carb, and not have them ! I have already made low-carb (not keto) chaklis and I cannot wait to update those too in a separate section.
Some of you may not cheat, some of you would give in to tempations, because #YOLO . I am going to be in a safe zone of being in moderate carbs (under 100g net carbs) and enjoy the festival without being guilty or deprived ! You may want to make some desserts that are guilt-free and here is where I come up with interesting recipes. If I can, I will surely update all the low-carb healthy recipes soon.
This recipe was inspired by many requests done by the followers. I made rabri this way many times, but didn't get time to upload it soon. So, here it is ! Now, this recipe is easy to make but needs little patience as it tastes very much like Rabri when it is cold ! Make this Keto rabri right away 🙂
You will need 4 basic ingredients :
Coconut Milk – we use this
Xanthum gum – we use this or this (optional if you don't desire thick consistency)
Kesari milk masala powder– we use this  (use cardamom powder if you don't have this)
Xylitol – we use this
Grated paneer– homemade or store bought full fat cottage cheese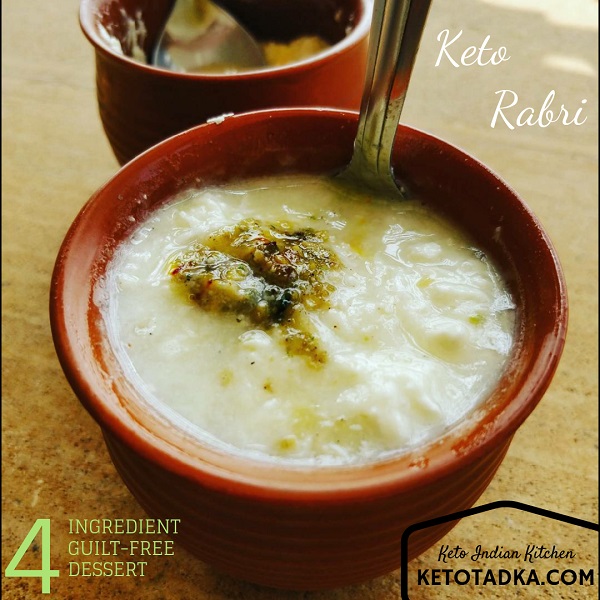 | | |
| --- | --- |
| | |
Take 400 ml of coconut milk and put it in a deep pan and keep the flame on low. Keep stirring the coconut milk so that it does not stick to the pan. Let it reduce to half. We are basically making condensed milk

Take a tbsp of normal temperature water and add 2 grams of xanthum gum and keep it aside

As the coconut milk reduces to half, add the grated paneer and the xanthum gum and mix properly.

Crush 2-3 cardamom pods and add to the rabri

Stir the mixture and let the paneer cook for 10 minutes.

Take 3 bowls/glasses , add the rabri and put them in the fridge for 2-3 hours. This is very important for the rabri to be thick enough. Garnish with some cashews or other nuts and eat it cold. ENJOY !
Nutrition Facts
Serving Size 100ml
Servings Per Container 4
---
Amount Per Serving
Calories 338
Calories from Fat 264.6
% Daily Value*
Total Carbohydrate 1.7g
1%
---
*Percent Daily Values are based on a 2,000 calorie diet. Your daily values may be higher or lower depending on your calorie needs.
(This post may be sponsored or contain affiliate links, but all opinions are my own. I may earn money if purchases are made through links (at no additional cost to you) which helps support this site and keep the content free.)