Do you hate cauliflower rice ? Then this tangy and flavorful indian "rice" is for you . Keto Lemon Turmeric rice is a bang on recipe to satisfy your "rice"cravings.
I actually love cauliflower rice, but not when it turns mushy. I love to dry roast it, and add some Indian spices to it and make it little separated.
Lemon Turmeric rice was something I always had since childhood and my mom is the inspiration behind it.
The lemon and Turmeric adds a tangy and kicking flavor to the cauliflower and doesn't make it
Boring and well, blah !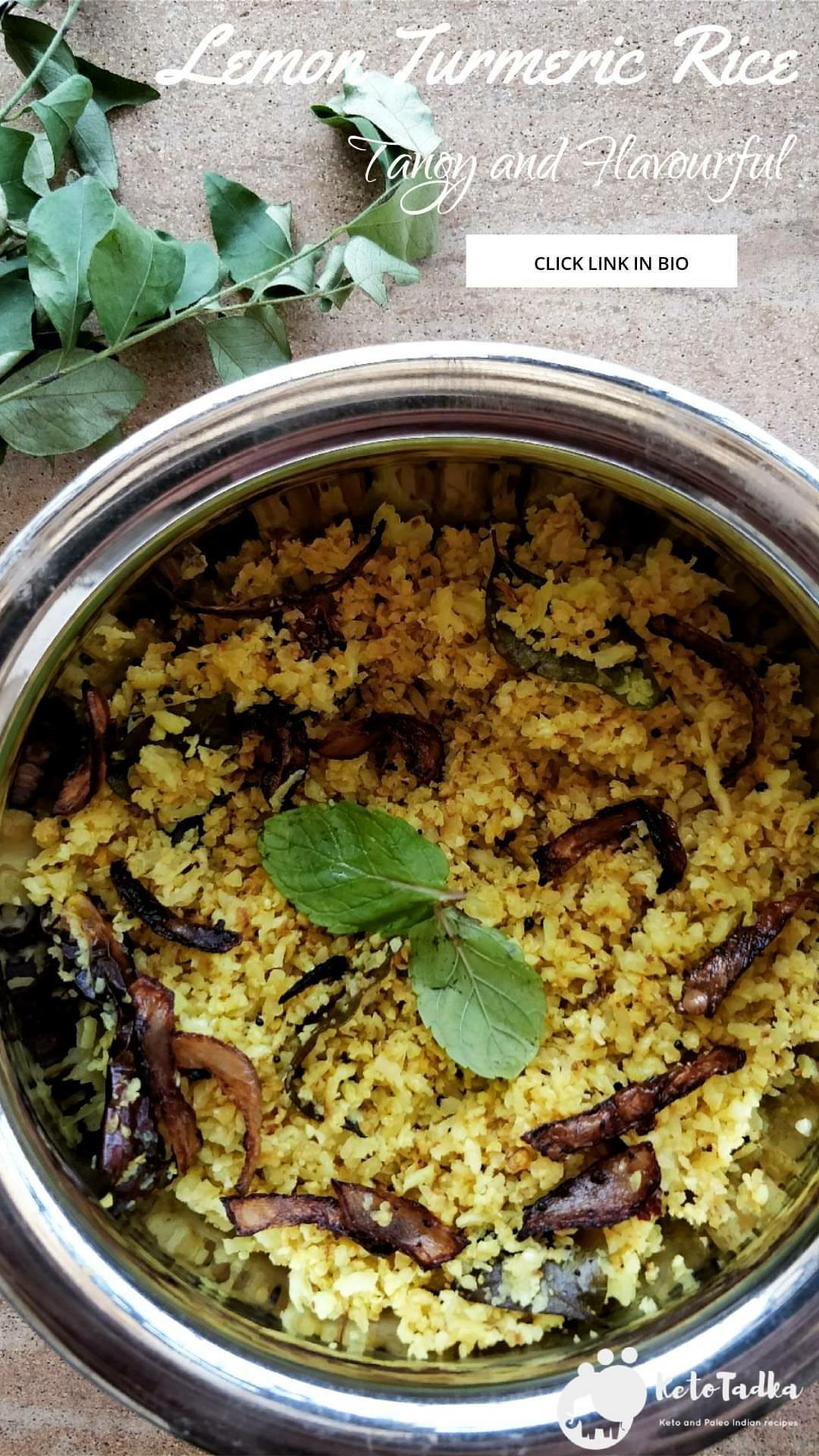 What will you require for Keto Lemon Turmeric Rice ?
1)Grated and separated cauliflower. Do not use the cauliflower that has turned mushy. I use a simple grater like this to make the cauliflower "rice-like".
2) Curry leaves and mustard. Mustard preferably small and black, while curry leaves frozen or fresh. People outside India can easily get it from Amazon or even at whole foods/trader Joe's.
3) Turmeric – Duh ! You will need just small quantities, and in powdered form.
4) And the USP of the Keto Lemon Turmeric rice is fried onions and coriander to garnish. It comes out well with the flavour.
So, pretty simple right. You just need few ingredients and 15 minutes of your time ?
Let's get to the recipe ?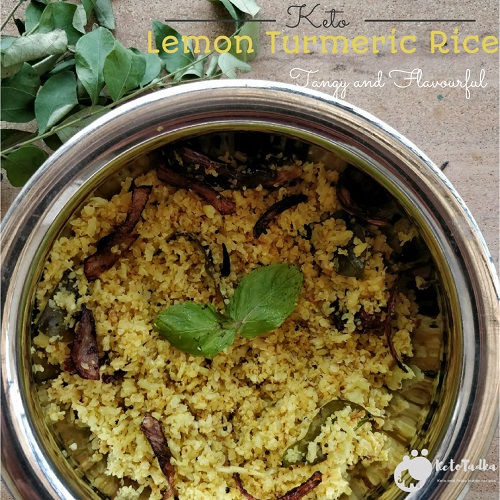 | | |
| --- | --- |
| | |
Heat ghee in a skillet over medium heat. When the ghee is melted and hot, add mustard seeds and let them pop.

Add curry leaves, let them pop too , give it a mix.

Add turmeric and red chilli flakes and mix well. Reduce heat to medium low. At this point you can add roasted nuts(cashews or peanuts) and mix in.

Add a splash of water to reduce the temperature of the pan, then add the lemon juice.

Add in the cauliflower rice and mix in well. Add salt to it and Cook for 10 minutes. Taste and adjust salt and lemon. Cover with a lid and let it cook for another 7-8 minutes. Let it sit for 2 mins before serving.

Remove the rice in a serving bowl. In the same pan, heat about 1 tbsp of ghee and fry the onions till they are caramazlized and garnish the rice with coriander, mint and fried onions.
Nutrition Facts
Serving Size 1 serving
Servings Per Container 2
---
Amount Per Serving
Calories 177
Calories from Fat 146.7
% Daily Value*
Total Carbohydrate 7.4g
2%
---
*Percent Daily Values are based on a 2,000 calorie diet. Your daily values may be higher or lower depending on your calorie needs.
(This post may be sponsored or contain affiliate links, but all opinions are my own. I may earn money if purchases are made through links (at no additional cost to you) which helps support this site and keep the content free.)