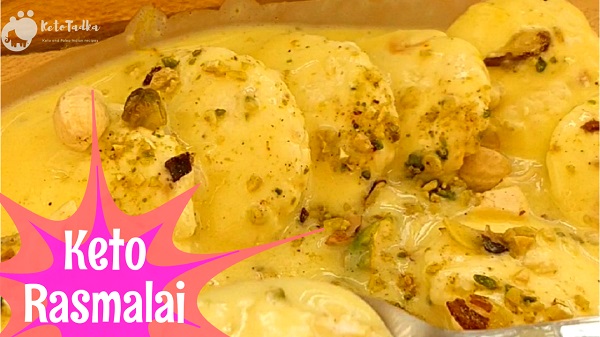 Ever knew your little effort of cooking this Keto Rasmalai (Keto Indian Dessert ) can be less than 1g net carb per serving unlike the traditional carb loaded ones ? Too good to be true, right ? And let me tell you, this is not even compromise in taste unlike some of the keto copycat recipes you find on internet.
The recipe is very much straightforward and the video below makes the process very easy to understand. Though, refer the recipe notes below to after watching the video.
What is Rasmalai ? How different is Keto Rasmalai ?
If you are not an Indian, and unfamiliar with this dessert- you have to know what is Keto Rasmalai. Also, it is very likely that you will make this dish only when you know what it is about and what to expect ? So, traditional Rasmalai recipe is made from paneer (as we are making it too in the keto version ) and is soaked in a sugar loaded rabdi. Rabdi is nothing but reduced and condensed milk  with some cardamom. (Bdw, we also have Keto Rabdi made in 2 ways , and if you are wondering what it is- check those out. (Rabdi 1.0 and Rabdi 2.0 )
And the good news is- Where one serving of traditional Rasmalai must be around 10-30g net, this is as low as 0.9g net 😛 Do the math. Well, I am planning to have 10 of these in one go after I break an extended fast ( I usually do 48 -72 hr long fasts once a month) and guess what – I won't even regret a single moment of it. Haha !
So is it worth the effort you will need to make the Keto Rasmalai ?
Since you have asked this, I will be blunt. Every recipe on this blog is exclusively made for people wanting to revolutionize their way of eating. For the healthy options to replace the bad habits, for less insulin spikes, for less blood pressure, for low cholesterol , for those special occasions, for those pick-me-ups, for that keto party you have organized for the non-keto folks, for the love of food, and yes- for you.
Why do you think big and respected Keto Bloggers like Martina of  Ketodietapp.com ,  Carolyn of Fooddreamer, or Lisa of Lowcarbyum take so many pains to come up with new ideas and recipes ? It is not about money, trust me. The time one invests in blogging, especially food bloggers, fitness bloggers is not always about the money. Any good honest blogger will approve of this. For a blogger, even if one person could make his/her recipe and could manage his/her day without resorting to bad eating habits, is a win. You cannot imagine how it feels.
So, since I started blogging and meeting more people, my message has been very straightforward.
Take Some Time out To Cook !! 

Cooking will not only make sure you are eating healthy,

cooking actually calms your mind.

You need not be an expert, but your effort will add

 a brownie point to your self-love diary.

Also, Rasmalai is freaking BAE, SO MAKE IT :p
What will you need ?
♥Homemade paneer/ cottage cheese preferable . ( Options- Store bought preferably from a dairy wala works too, do not buy the paneer you get in packets. Your paneer balls can break when you boil them. )
♥Your sweetener of choice- I prefer Xylitol over Erythritol and Stevia in this recipe.
♥Cardamom – USP of any Indian Dessert
♥Keto condensed Milk– This recipe is made from heavy cream and is exact copycat of the condensed milk you get in the market (  see the recipe notes below the recipe)
♥Note before making the Keto Rasmalai ♥
You have to knead the paneer exactly for 10 minutes. Nothing less or more than that. Do not miss this step or rush it.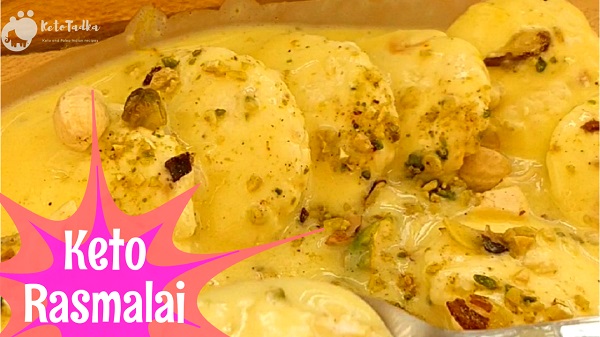 Making rabdi for the rasmalai
| | |
| --- | --- |
| Making rabdi for the rasmalai | |
Make paneer and paneer discs
Boil 1 litre cow milk in a pan. Add the lemon juice after the milk comes to a boil.

The milk curdles and whey starts to separate. Let the whey separate completely. Switch off the flame.

Drain it in a cheesecloth lined sieve placed on an empty vessel. Wash the retained milk solids with some water and tie the cloth tightly and let the whey drip for 30 minutes.

Unwrap the cloth and the paneer is ready which should look like an aggregated mass (dough-like) of milk fats. Makes approx 150g of paneer

Take the paneer in a deep dish and knead it until it forms a soft dough . It takes 10 whole minutes to knead the dough, do not rush this step or the paneer discs may break while cooking.
Cooking the discs in syrup
Take 1 litre of water in a wide pan and let it come to a boil. Gently place the discs in the water and cover with a lid. Cook for 18-20 minutes. The discs swell and double in size.

Open the lid and squeeze out the water from the discs by pressing them between two ladles . Set them aside
Add almond milk, keto condensed milk , cardamom and saffron. Bring it to a boil for 10 minutes. Switch off the flame.

Let it cool completely. Remove the rabdi in a bowl and refrigerate for 1 hour.

Soak the discs with the rabdi for 20 minutes and garnish with some almonds or pistachios. Serve it cold and enjoy !!
Nutrition Facts
Serving Size 1 piece of rasmalai
Servings Per Container 10
---
Amount Per Serving
Calories 168
Calories from Fat 147.6
% Daily Value*
---
*Percent Daily Values are based on a 2,000 calorie diet. Your daily values may be higher or lower depending on your calorie needs.