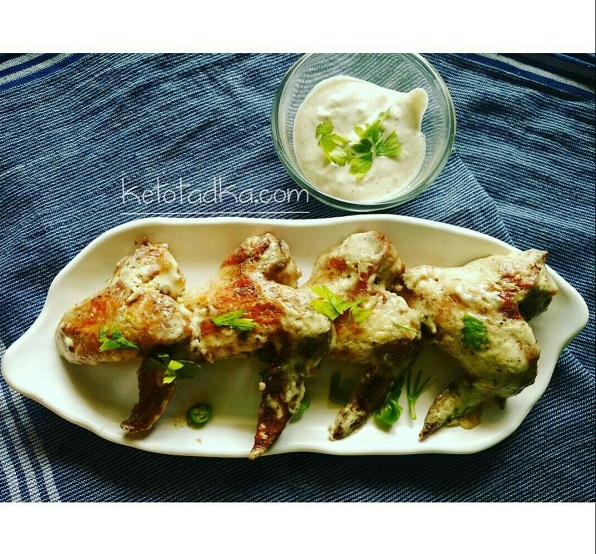 Cheesy Malai Chicken wings is what you need on a gloomy day !! Trust me ?
Those who are new here, welcome to my blog ! I post Indian ketogenic recipes full of fats and super low in carbs. Today, I am excited to present this unique recipe for chicken wings.
I love hot wings, Bbq wings, garlic parmesan wings, I love them all ! Waaangggss..! I got them on a sale few days back, and it was a cheap deal. So I thought why not come up with interesting wing recipes every day ? So, the Cheesy Malai Wings. This is an interesting rub to make and has an equal cheesy and malai (creamy) flavour to it.
You will know when you make it; it has subtle sweetness and a lot of cheesy flavour to it. I made the rub for around 8 wings, and could finish only 4 . Yeah, they make you full quick !
You will need basic things which any person following ketogenic diet has;
Some cream, cheese and spices. So, let us just get to the recipe quick !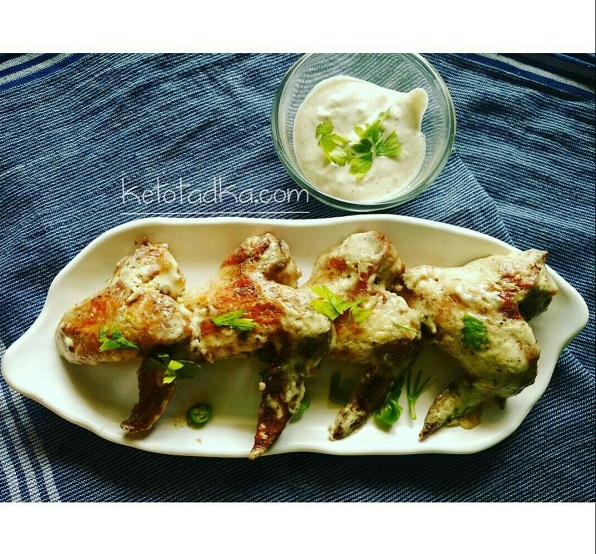 | | |
| --- | --- |
| | |
Dry the wings with a kitchen towel and apply all the ingredients of the dry rub and bake it at 200 degree celcius for 20 minutes and 5-7 minutes of broiling/grilling to make the skin crispy.
Take the cheddar cheese and yoghurt and microwave for 30 seconds , open the microwave for every 15 seconds to see if the cheese does not burn. It will form a paste-like consistency. Do not worry if the cheese forms a lump, it will be runny when we add cream in the next step.

Mix the cream in the cheesy mixture and again microwave for 15-20 seconds till it forms a uniform mixture.

Add the spices, and put the baked wings in this sauce/rub and toss them so that each wing is covered with the rub properly

Grill/ broil again for 5 minutes and serve hot with parsley/coriander leaves for garnish and have it with the remaining sauce or just like that
Nutrition Facts
Serving Size 1 wing
Servings Per Container 8 wings
---
Amount Per Serving
Calories 200 calories
Calories from Fat 170.1
% Daily Value*
Total Carbohydrate 2.2g
1%
---
*Percent Daily Values are based on a 2,000 calorie diet. Your daily values may be higher or lower depending on your calorie needs.