Keto Creamy Hot Chocolate is all you need for those cold days. The warmth of hot chocolate and a book to read is my plan of a perfect weekend.
If you are anyone like me, who loves a perfect cup of hot chocolate to beat the cold and be cozy in bed; this recipe is for you. It is a quick recipe which does not require any expertise, and needs few ingredients.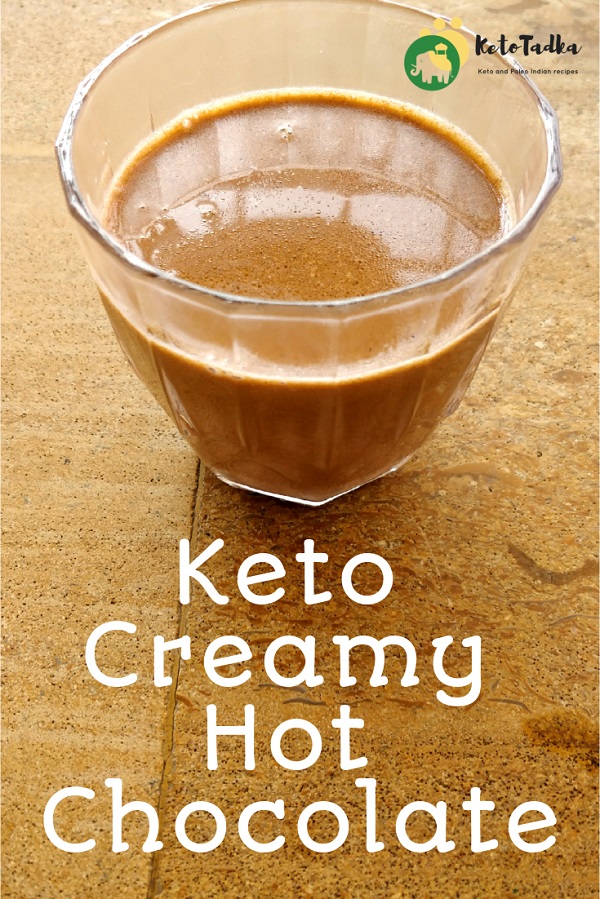 What do you need ?
1] 100 % dark cocoa powder [ I use this]
2] Fresh cream or heavy whipping cream [ I use this]
3] Xylitol or Erythritol or Stevia drops [ I use this Xylitol, Erythritol and Stevia]
4] Vanilla bean paste or Vanilla extract [ I use this paste or these beans or store-bought extract]
5] Dark chocolate 85-100 % dark [ I use this and buy it in bulk as this is cheap for a kilo ! or you can use this one]
6] Almond Milk [ I use this or this or even this ]
How to meal prep this for a week ?
Keto creamy hot chocolate is what I prep for the whole week in winter. I love to microwave this and drink it after my meal or workout. There is another fat drink recipe on my blog which is the Indian Bulletproof drink, you should check that out and triple the ingredients if you want it for whole week. If you want any other bevearge, I have the Indian KETO CHAI too on my blog.
Want it to be dairy-free and nut-free ?
Swap the cream with coconut cream and if you want it nut-free ; swap almond milk with coconut milk.
Want to try other drinks ? Check these out :
Other recipes from some of my favorite blogs :
Cardamom Hot Chocolate – Low carb so simple
Mexican Hot Chocolate – Alldayidreamaboutfood
Healthy Nutella Hot chocolate- Deserts with Benefits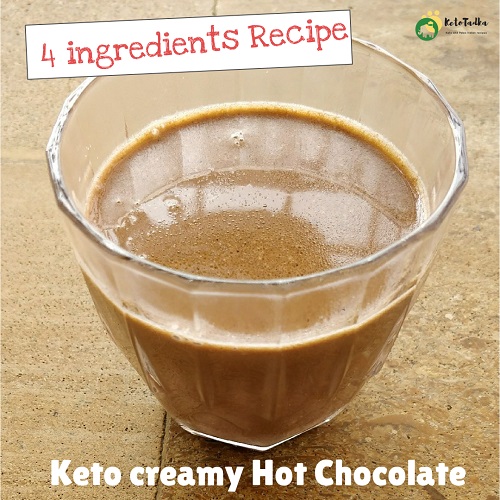 | | |
| --- | --- |
| | |
Melt the butter in the pan. Add the almond milk, cream, cocoa powder and water. Stir until everything dissolves and is uniform.

Take the pan off the flame, quickly add the vanilla, sweetener and dark chocolate cubes and stir until the chocolate melts

There may be some bits left undissolved in the hot chocolate, every time you need a cuppa hot chocolate, microwave the hot chocolate in a microwave safe bowl, strain the amount you require and referigerate the rest.

If you make this for the whole week, (makes 4 servings to have it on alternate days) -Everytime before use, microwave and strain.
Ketotadka is a participant in the following affiliate programs: Amazon Services LLC Associates Program, These affiliate advertising programs are designed to provide a means for sites to earn advertising fees by advertising and linking to amazon.com
NUTRITIONAL DISCLAIMER
Please note that I am not a medical or nutritional professional. I am simply recounting and sharing my own experiences on this blog. Nothing I express here should be taken as medical advice and you should consult with your doctor before starting any diet or exercise program. I provide nutritional information for my recipes simply as a courtesy to my readers. It is calculated using Myfitnesspal app and I remove sugar alcohols (erythritol and xylitol) from the final carb count and net carb count, as it does not affect my own blood glucose levels. I do my best to be as accurate as possible but you should independently calculate nutritional information on your own before relying on them. I expressly disclaim any and all liability of any kind with respect to any act or omission wholly or in part in reliance on anything contained in this website.
© Ketotadka.com 2018. Unauthorized use and/or duplication of this material without express and written permission from this site's author and/or owner is strictly prohibited. Excerpts and links may be used, provided that full and clear credit is given to Ketotadka.com with appropriate and specific direction to the original content.