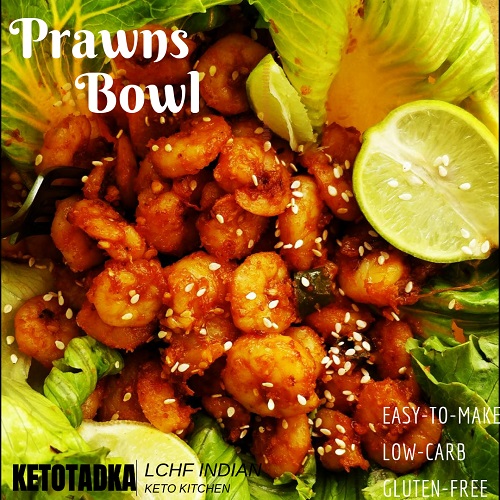 How many of you love prawns ? I do ! Today, I bring you  a simple, easy-peasy Keto Indian prawns bowl recipe today which needs very basic ingredients from your pantry.
Stir-fried prawns are a hit at my home, ketogenic or not ! When I make them for my family, it's always made this way. They don't even realize that this doesn't have any sugar, flour, gluten or any other processed sauces. This whole bowl makes 2 servings, I am usually full with just half of it.
Before I take you to the recipe, I dare you to listen to my horrible day. Me and some friends I have from the low-carb community are doing clean keto; we are avoiding dairy, nuts and sweeteners ! I must tell you I am feeling really good with this challenge and already feeling lighter than I was. Although, I am really missing almond flour right now – all I can think now is making rotis, parathas and pizzas !
I am really working hard towards this goal of Clean keto and really miss my good old Iced Bulletproof coffee although it has a dairy-free option. Also sometimes I am swearing on this Indian Bulletproof for that fat . I must tell you clean keto is the most rewarding thing you will do to yourself. Dairy spikes my insulin like crazy and makes me super hungry after few hours. I used to limit it to twice a week even before clean keto challenge, eliminating it completely has helped me surely.
Now, as you have heard enough of how I am doing, let's get to the super simple recipe of the prawns bowl !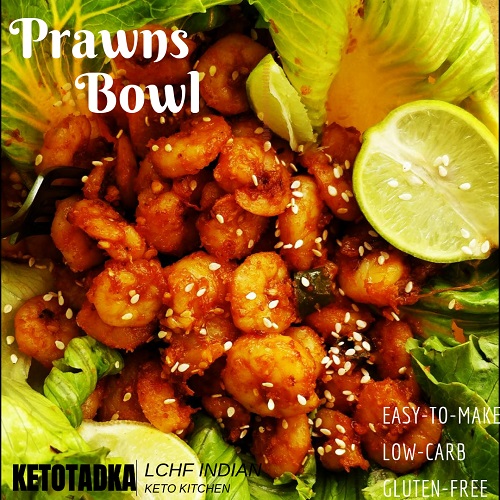 | | |
| --- | --- |
| | |
Take 2 tbsp of butter in a pan and let it melt add 3 finely chopped garlic to it.

Add 20-30 grams finely chopped onion. Add salt as per taste. Add long-sliced green chillies 3-4

Add half of bell pepper (any colour) and stir fry it until it's crispy.

Add 1-2 tbsp of tomato puree and mix . Add 1 tsp chilli powder and mix. Let the mixture become even.

Add washed and de-veined prawns, and stir them . Add more butter at this point if you feel it's dry. Let the prawns become little cooked and let them reach a point where they are little charred. The prawns, tomatoes and onions will leave some water. Let it evaporate completely.

Take a deep bowl, place the lettuce leaves with the stalk at the bottom and leaves at the top, side -to-side.

Take 2 tbsp of finely chopped peanuts or peanut powder and mix with the prawns. Add the prawns, sprinkle some sesame seeds on top and some olive oil.

Squeeze lemon and add some roasted cashews before serving.